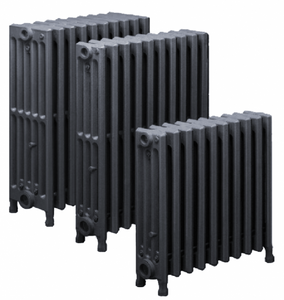 Cast Iron Radiator, 44 Sections, 19"H, 4 Tubes
SKU#: RAD19444
Cast Iron Radiator, 19"H x 77"L x 4 1/2"W, 4 Tubes, 44 Sections

Top Opening = 1"
Bottom Opening = 1 1/4"

Great products stand the test of time and our free-standing Cast Iron Radiators prove the point! Our durable radiators come in 4 and 6 tube styles, 19 and 25 inches in height. We sell them in even number of sections up to 48 sections.

Slenderized Cast Iron Radiators offer superb heat retention. They provide warm, quiet heating comfort and even distribution of heat throughout the room.
---
We Also Recommend